Intercom System
Back To Our Services
Despite the depressed economy, the crime rate in many cities in the United States is going down. Still, you cannot be too careful especially if you live in California. If you are thinking about investing in a driveway gate, or already have one, then you should take it a step further and have a gate intercom system installed. Companies like Doorking, Linear, and Aiphone all offer affordable systems that you can have installed by one of our professional intercom installation experts at "Gate Repair North Hollywood". The biggest challenge you will have is picking out the right system for you.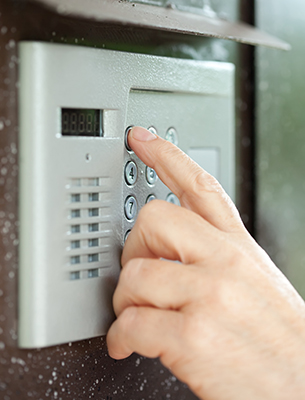 There are two types of intercom systems to choose from: wired and wireless. A wired gate intercom system is only good for people who are building a new home, are planning on making renovations to their home or who already have a wired system set up. This is because the wires are secured behind walls and underground. Tearing open walls and resealing them could be a prohibitively expense. Additionally, with the wireless systems available on the market, it is unnecessary to do this. A wireless gate Intercom System transmits signals through radio waves similar to cell phone technology and is an infinitely more affordable intercom gate system.
When shopping for a gate intercom system
You definitely want to get one that includes a video system. This way, you will be able to visually confirm that it is a delivery person buzzing to be let in your property. The manufacturer of Linear intercom systems also produces video monitoring equipment. However, it would not be difficult to have a video system installed alongside your Doorking intercom system or an Aiphone system. These companies also make commercial intercom systems so that people who own apartment complexes or office buildings can also install a phone enter system for added security.
Our gate repair and intercom expert company has experience with all these systems. We have the expertise to program intercom systems correctly. The staff at Gate Repair North Hollywood is trained and knowledgeable and promises great assistance and fast intercom repair. You can count on us! Contact us today!